FIRESTA Company
Responsible Author: Wopag | london, 11/22/2019, 10:52 Time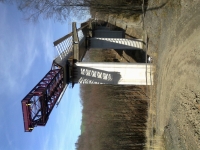 USPA NEWS -
Construction of bridges by incremental launching method
In the year 2000 the FIRESTA Company added hydraulic manipulation of superstructures to its main construction activities with special focus on launching and lifting/lowering.
To provide these services, FIRESTA is equipped with several ENERPAC high pressure hydraulic systems which are used to launch, lift and lower bridge constructions. The total capacity of these systems exceeds 20 000 tonnes.
A selection of recent constructions is listed below:
Road I/11 Mokré Lazce, a road connecting Opava and Ostrava districts, Czech Republic
In addition to bridges built by falsework, FIRESTA produced and assembled bridge constructions of two largest structures in the whole project (SO 206 and SO 207). The method used was incremental launching. For both of them similar steel superstructures with concrete decks were designed. The steel superstructure was built in section behind abutment and pushed with bars and hydraulic hollow plunge cylinders with capacity of 4 x 150 tonnes and 2 x 100 tonnes. The launching of SO 206 amounted to the length of 329 m and the weight of 3 740 tonnes (main steel superstructure plus bottom part of the concrete.
FIRESTA a.s
Responsible Author: wopag | london, 11/10/2019, 10:13 Time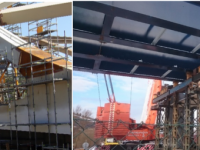 wopag -
Bridges have been the core product line since founding Firesta in 1989. Firesta always invested into senior inhouse project team in order to ensure first in class technical documentation and perfectly prepared projects. It has paid back many times when challenging structures had to be delivered under tight deadlines. The inhouse project team holds extensive expertise on auxiliary structures and supporting rings.
Firesta gradually invested into new technologies and production capacities and soon became one of the CEE leaders in road and railway construction industry. Current production and engineering capacities allow Firesta to deliver complex assignment maintaing all the core high value added activities inhouse. Firesta is aiming to continue differentiate from the rest of the market by being a one-stop-shop for any investor requiring on time delivery of complex project. This position is only possible thanks to experienced inhouse project team that is able to support any stage of production by delivering precise project design documentation.
The inhouse project team delivers design documentation not only for Firesta production centers and plants, but also for other 3rd parties tha
| | |
| --- | --- |
| | Daren Frankish |
| | RAHMA-SOPHIA RACHDI |
| | Ruby BIRD |
| | Yasmina BEDDOU |
| | Aurangzeb Akbar |